Find Refreshment in our inviting pool – an oasis in the Namibian wilderness.
Savor authentic, local, and international dishes at our restaurant – or enjoy a drink at our bar.
Marvel at the intricately woven nests of our weaver birds.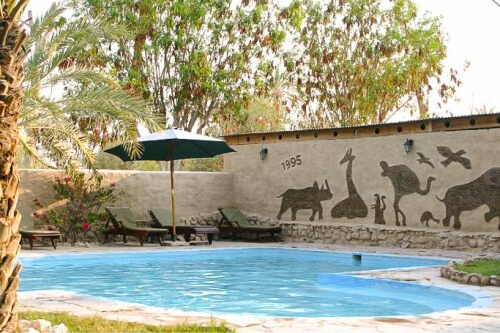 The spacious pool invites guests for both refreshing dips and physical activity. Thanks to the pleasant climate in Sesfontein, it is comfortably temperate all year round, offering perfect relaxation.
Our restaurant, featuring both indoor and outdoor seating, provides the perfect setting for fine dining. The lunch menu offers a selection of tasty options from both local and international cuisines. In the evening, guests can indulge in a four-course dinner menu. Vegetarian and vegan options are also available upon request.
Our bar, in addition to serving refreshing cool drinks, offers a selection of appealing wines, as well as various long drinks and spirits.
Whether you're a day guest or staying overnight, enjoy the carefully prepared dishes made with fresh ingredients at our restaurant.
Book effortlessly with our partner agency ResDest