Your Accommodation in the Wilderness
Our double rooms are suitable for couples and solo travelers alike.
Our family rooms provide ample space for 3 to 4 people.
Discover our comfortable retreat, perfect for couples or families of up to 4 people.
The spacious double rooms are stylishly designed with clay walls and natural stone floors. All feature private bathrooms. Barrier-free rooms are also available for booking. Mosquito nets over the beds provide a sense of security, while ceiling fans and air conditioning ensure a comfortable climate.
These units consist of two separate rooms and are equipped with 3 to 4 beds. The main room features the amenities of the double rooms, while the second room has up to two single beds, each with a mosquito net. The family room has a shared bathroom and toilet.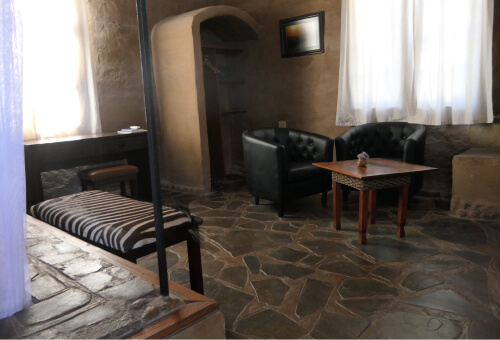 The exclusive suite is located in the main tower of the historic complex, spanning three floors. The ground floor entrance leads to the bathroom and separate toilet. The primary sleeping area is equipped with a double bed, mosquito net, and climate control via fans and air conditioning.
A staircase leads to the first floor where you'll find the second sleeping area with 2 beds. The tasteful living area, furnished with 2 leather sofas, a writing desk, etc., is also located on the first floor. Adjacent is a private balcony where meals can be enjoyed.
The rooftop terrace on the second floor offers a breathtaking view of the surrounding landscape and serves as an ideal spot for sundowners.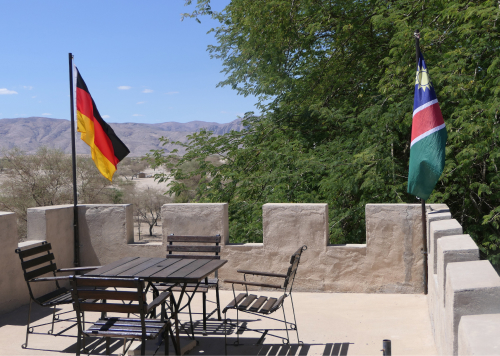 Facilities and Services at the rooms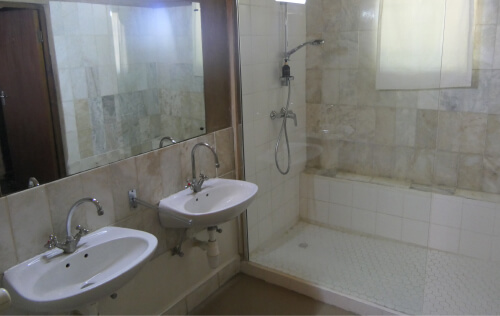 Experience comfort and convenience in our rooms, equipped with individually adjustable air conditioning, a personal safe, and a private bathroom. Relax in cozy seating areas after an exciting day of exploration. Our friendly team is dedicated to ensuring a memorable stay for you.
Book effortlessly with our partner agency ResDest