Traces of Past Cultures and Their Message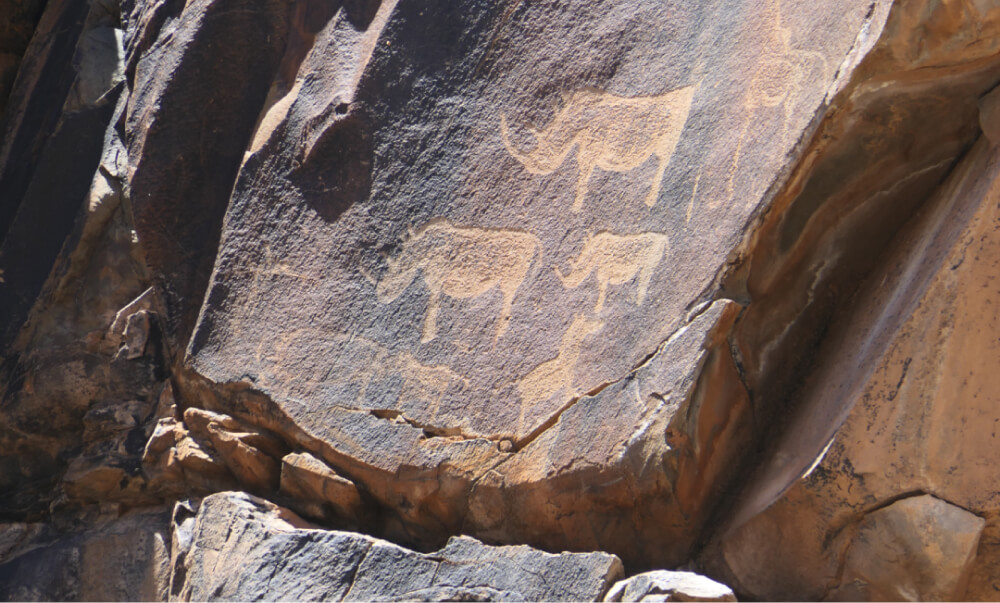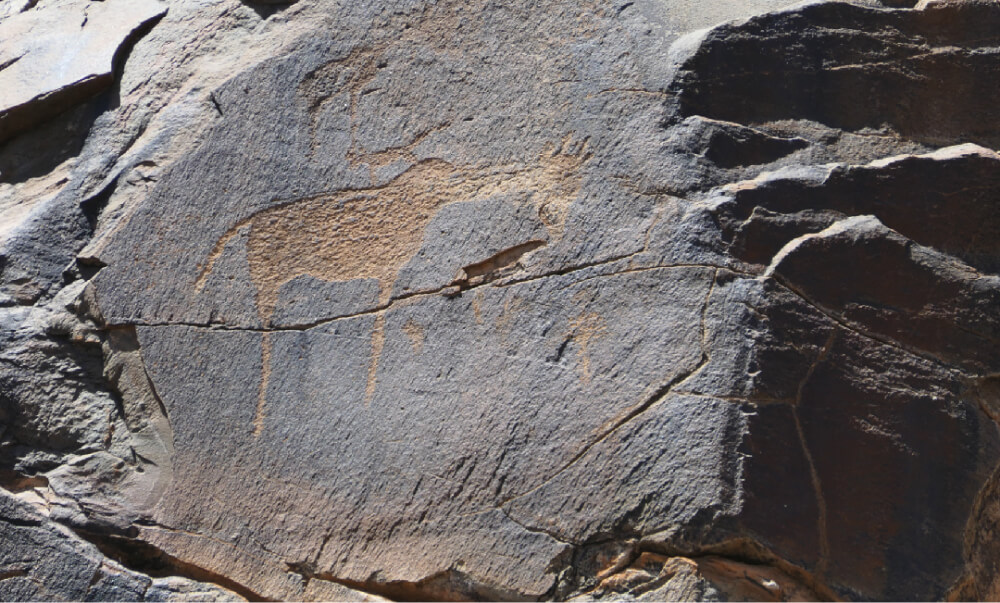 This versatile, full-day tour immerses you in a mysterious, primal Africa. In an open off-road vehicle, venture off the beaten path into a picturesque, untouched grass and bush savanna. We'll explore the peculiarities of the Welwetschia plant, which can live up to a thousand years, and discuss the wildlife native to this wilderness, including black rhinos, lions, zebras, ostriches, and springboks.
Upon reaching a rock canyon, we find a gentle spring above and discover countless rock engravings on sandstone slabs. This unique cultural treasure remains largely unexplored archaeologically, allowing you an exclusive view of these impressive Stone Age depictions. The well-known engravings at Twyfelfontein, located about 250 km to the south, display unmistakable similarities. Both sites are characterized by water sources near the engravings and the opportunity to set up concealed campsites by the spring. This was significant for the SAN, the traditional hunters and gatherers of Southern Africa, both for their own supply and for attracting prey animals for hunting.
The purpose of the engravings leaves room for speculation: The more or less accurately depicted images of the local wildlife, which we could track ourselves on the way there, are thought to visibly assert a claim to the WILD and water in this ancestral area.
Another theory associates the engravings with the shamanistic activities and trance of the SAN. This interpretation, however, requires specific representations of dance and hunting or the depiction of supernatural themes like animal-human hybrids. It is left to your archaeological intuition to interpret the numerous engravings. The traces of ancient cultures, estimated to date back more than 2000 years, are fascinating in any case. With many impressions, we make our way back to the fort. On the way, we encounter the warm springs of ONGONGO, where a stream pours over a rock step into the valley, feeding a natural pool with warm water.
Book effortlessly with our partner agency ResDest